This post may contain affiliate links. Which means we may earn a commission if you decide to make a purchase through our links. Please read our disclosure for more info.
With more than 275 million Americans using cell phones, this mobile device has now become a necessity for most people. A cell phone is not only a communication tool but it is also a must-have in doing business, getting information, shopping, entertainment, education, and more.
However, unlike other electronic devices, getting yourself a cell phone is not as simple as buying something off the rack. When you want to get a cell phone, you also have to apply for a phone service for you to be able to use the device. All of the major phone carriers in the United States offer competitive phone plans that allow you to get a phone with the best talk, text, and data packages. With some carriers, you can even get top-of-the-line devices for $0 down payment!
The problem is, the best deals are usually limited to people with a good or excellent credit score. This is because phone companies need to ensure that you have the ability to pay for the phone and the service before you get an approval.
What Credit Score Does A Phone Company Consider As "Bad Credit"?
If your credit score is below 600, this is generally considered as having poor or bad credit. But is this also the same criteria with phone companies?
To give you an idea what excellent credit looks like when it comes to cell phone companies, let's take a look at phone carrier Sprint. When getting a plan or a new phone with Sprint, you'll see that the website will prompt you to select your credit score range.
Sprint categorizes people with credit scores of 700 and above as having excellent credit while those with scores below 550 are classified as "fair" credit, which is a nicer way of saying that your credit score is bad.C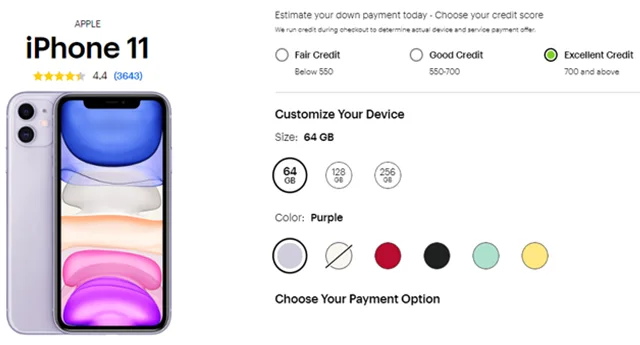 A quick chat with a Sprint customer service rep said that a score of below 500 is considered "not good". While cell phone users in different internet forums claim that if your score is below 600, you won't get approved for an AT&T plan without a deposit.
So, what do you do if you have no credit history, or worse, your credit score is pretty bad? Is getting a cell phone plan impossible? Of course not!
We listed down some of the options on how to get approved for a cell phone with bad credit.
How to Get A Cell Phone With Bad Credit and No Deposit?
Planning to get a new cell phone but you have bad credit or no credit? Don't worry because there are different ways on how to get a smartphone without having to subject yourself to a credit check or paying a hefty deposit.
1. Sign-Up for A Prepaid Plan
One of the easiest ways to get a cell phone with bad credit is by getting a prepaid plan. Just like prepaid cards, getting a prepaid phone service means you have to pay for your monthly fee in advance before you can use the voice, text, and data services. Because you are pre-paying your monthly fee, getting this phone plan does not require any credit checks. Even if you have bad credit or no credit history, you can still be eligible for a prepaid plan.
A lot of people think that getting a prepaid plan means shelling out a lot of cash up front. However, this is not necessarily the case. With a prepaid plan you have a choice to buy the device you like and get service from the phone carrier of your choice. Of course, this will depend on the models and offers from the specific carrier. If you want a high-end phone like the latest iPhone, this will obviously cost much more to buy upfront compared to a less popular smartphone model.
However, the great thing about a prepaid plan is that you can also bring your own phone as long as it is unlocked. An unlocked phone means it is not limited to a specific carrier and you can use it with any phone carrier. This means you can buy a phone from anywhere, even a second-hand one, and get better prices. If you have friends or family who recently upgraded to a newer phone model, you can offer to buy their phones for a lesser cost then sign for a prepaid plan.
2. Buy Now, Pay Later Cell Phones With No Credit Check
What if you want the latest smartphone like the iPhone 11 but you don't really have the cash to pay the full amount? Another way to get a no credit check cellular phone is to opt for "buy now, pay later" offers. This is a financing model that allows you to buy an unlocked cell phone with no credit check and no deposit.
There are different websites that offer these types of deals like Leaseville, Rent Delite, and phones.credit. These are just some examples of companies that offer cell phone financing with no credit checks. With this type of deal, you pay a monthly fee for 12 to 24 months and you get to own the phone after completing the installments.
You have to take note, however, that these plans do not come with the phone service so you will need to pay for the carrier on top of your monthly installments. Many rent-to-own deals also come out more expensive than the upfront price so if you calculate the total amount, it will be double or even triple the standard retail price of the phone.
Another warning is that while some companies may not discriminate against people with bad credit, they might still pull a hard credit check and this could further harm your credit score so it's important to review the fine print or clarify whether the company will pull your credit.
3. Enroll in a Family Plan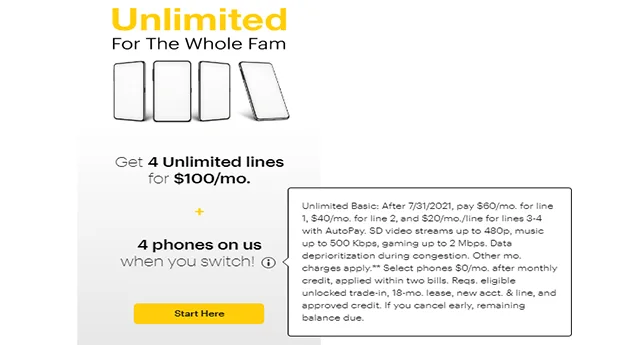 Joining a family plan is another way to get a cell phone approved with bad credit. The great thing with a family plan is that if the main account holder has an excellent credit, you also get to enjoy the great offers that are not available to people with bad credit.
Another benefit is that all of the users will get a better deal and save money because family plan packages often offer discounts. The catch with any family plan is that the primary account holder will be responsible if any of the other users fail to pay the monthly payments.
4. Get Someone to Cosign With You
If you do not have a family member who can hook you up with a family plan, you can still get approved for a cell phone plan if you get a cosigner with good credit. The phone plan will be in the name of the cosigner so this might be tricky if you don't have anyone who is willing to be accountable if you don't make the payments.
However, phone carriers usually allow you to move the account into your own name so this is a good temporary solution if you have bad credit now and you want to take over the account when your credit score is better. This might also convince your friend to cosign if you plan on moving the account to your name in the near future.
No Credit Check Prepaid Cell Phone Plans From Sprint, AT&T, Verizon, and T-Mobile
Getting a no credit check cell phone plan from the major phone carriers in the United States is possible. Even if you have bad credit you can get a cell phone plan from AT&T, Verizon, Sprint, and T-Mobile. While there are smaller phone carriers in the U.S., many Americans still prefer to get phone service from these carriers because of better network coverage.
With all these four major carriers, the available no credit check cell phone plans all require you to either :
Buy a phone upfront from the carrier at full price or
Bring your own unlocked phone
After getting your device sorted out, you can then sign-up for the prepaid plan. There are different offers and packages available which will really depend on your needs. Do you do a lot of voice calls? Are you a heavy internet user? You can choose depending on your phone habits and your budget.
Sprint No Credit Check
Sprint introduced its No Credit Check plan for people who have no credit history or those with bad credit. However, even if you have excellent credit, you can also take this plan if you already have your own phone and would like to get this option.
If you go with Sprint, you can be eligible to sign up for the Unlimited Kickstart plan that offers unlimited voice, text, and data for only $35 per month. At the moment, this and Boost's $HRINK- IT! is the cheapest unlimited plan compared to Verizon, AT&T, and T-Mobile.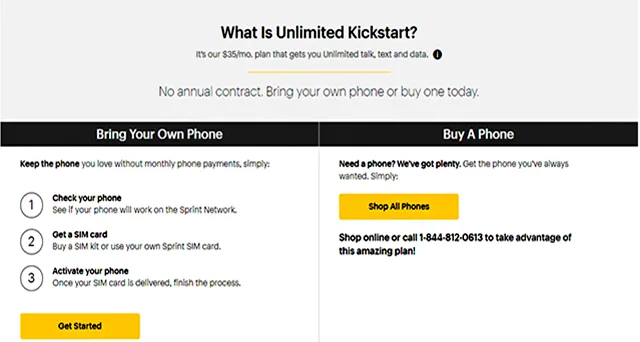 This plan has no annual contract so you can leave anytime you want and take your phone with you because you already own it.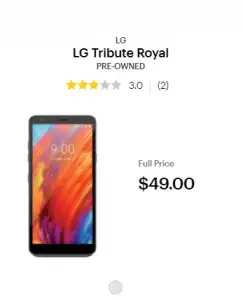 The cheapest smartphone that you can get for full price at Sprint are pre-owned phones. The LG Tribute cell phone costs $49 full price while the cheapest iPhone from Sprint is a pre-owned iPhone 8 at $240 full price.
AT&T Prepaid
If you want to go with AT&T, you can still skip the credit check with AT&T Prepaid. There are different plans depending on the data usage you require each month but all monthly plans come with unlimited talk and text within the US as well as unlimited text to over 100 countries.

The lowest prepaid plan starts at $35 per month that comes with 2 GB of data while the unlimited plan will cost you $65 per month. If you go for the 2 GB or 8 GB plan, your unused data will roll over to the next month and will not expire. There is also an online offer that will cost you $25 per month for 8 GB of data but this is only valid if you prepay $300 for 12 months.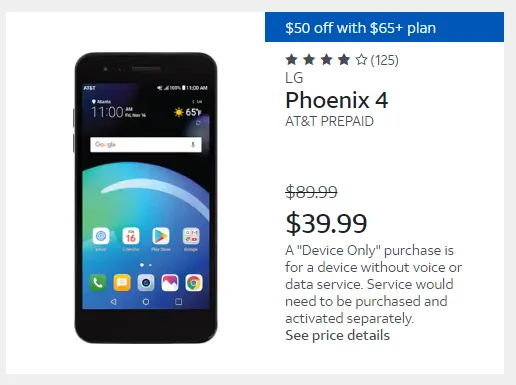 AT&T allows you to bring your own phone or you can also buy a phone from the company directly. The lowest priced smartphone model on the AT&T website at the time of writing is the LG Phoenix 4 at $39.99 which is available if you get the $65 unlimited prepaid plan.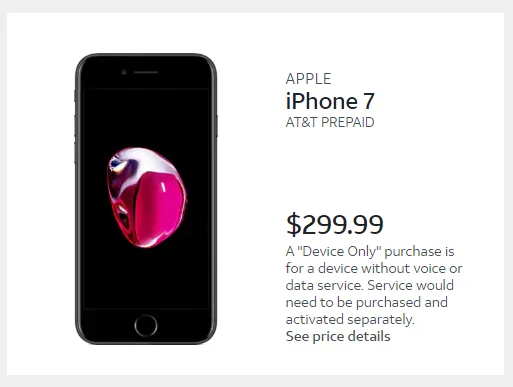 Planning to get an iPhone from AT&T Prepaid? The most affordable option available at the moment is an iPhone 7 at $299.99. You can probably get a cheaper deal from Amazon or other online stores but the benefit of getting a phone direct from AT&T compared to unknown sellers online is that you can be more assured about the quality of the device. If you are not satisfied with the phone, you can take advantage of At&T's flexible return policies.
Verizon Prepaid
Are you a Verizon fan? Then the good news is you can get a Verizon Prepaid plan even with bad credit. With Verizon Prepaid, you are also not tied up to a long-term contract as long as you buy or already own a smartphone.
The advantage of Verizon Prepaid is that according to its website, all the prepaid plans come with unlimited voice calls and text to over 200 destinations. This is a good deal if you make a lot of phone calls to different countries.
There is a current "double the data" promo being run by Verizon where the 3GB plan that cost $35 per month will now provide you 6GB of data and the 8 GB plan at $45 per month will give you 16 GB of data. If you are a heavy internet user, you can sign up for Verizon's unlimited plan at $65 per month.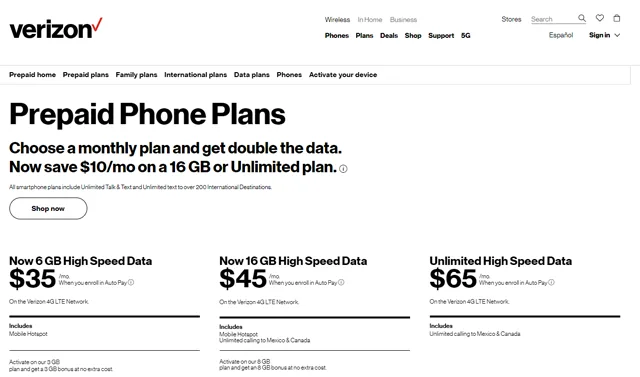 If you plan to buy a phone directly from Verizon, you can get a smartphone at $59.99 from brands like Motorola, Alcatel , and ZTE. The cheapest Samsung phones will cost you $149.99 while the cheapest iPhone from Verizon Prepaid is the iPhone 7 at $349.99 full price.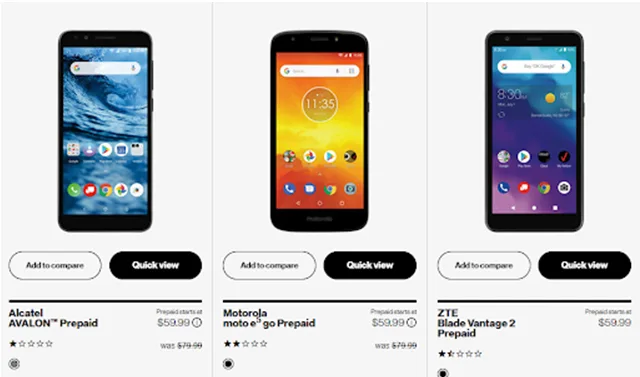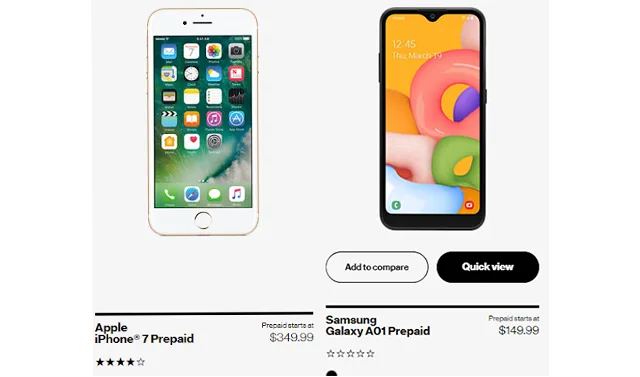 T-Mobile Simply Prepaid
With T-mobile Simply Prepaid, the lowest prepaid plan that you can get is $40 per month with 10GB of data. If you need an unlimited data plan, you have to pay $50 to $60 per month. All of T-mobile's prepaid plans come with unlimited domestic talk and text.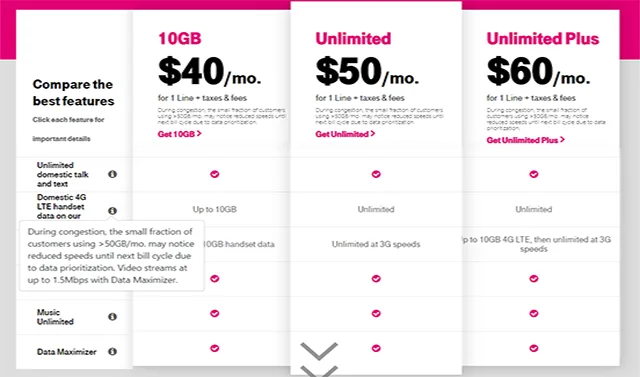 However, what's really interesting with T-Mobile is that you can be eligible for their Smartphone Equality program even with a Simply Prepaid plan. In this program, as long as you make on-time payments on your prepaid plan for 12 consecutive months, you can then qualify and access the best pricing deals on T-Mobile's phones and plans. This means that you can switch to a postpaid plan and get the latest deals WITHOUT a credit check after 12 months.
Qualifying for the Smartphone Equality program will be a good idea if you already have an existing phone in good working condition which you can still use in the next 12 months. After consistent on-time payments on your Simply Prepaid plan, you can then upgrade to a newer phone model after qualifying for the available deals.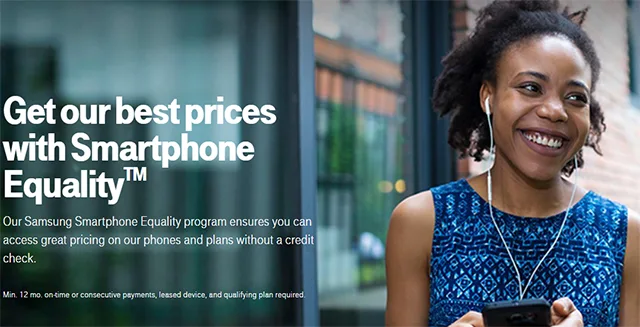 Getting a Cell Phone Plan With Bad Credit
Many people have the misconception that the only way to get a great cell phone plan is through a monthly contract with a phone carrier and that you need good credit to get approval. However, there are now different routes that you can take to still get a cell phone plan with no credit and no deposit. If you get a prepaid plan or a family plan, these options can even save you money and provide you with better flexibility.