This post may contain affiliate links. Which means we may earn a commission if you decide to make a purchase through our links. Please read our disclosure for more info.
Looking for the fastest way to make money? If you've got old wooden pallets in your shed or backyard, then you're sitting on anywhere from $2 to $100+ in free cash right now.
And because those pallets are just sitting there rotting away, you probably don't know where to sell pallets or who buys them, anyway.
Today's your lucky day: we scoured the web for the absolute best places to sell used and recycled wood pallets near you.
We answer FAQs like:
How much cash can you make from selling pallets?
Is there a market for used pallets?
Where can you sell wood pallets online?
Which companies buy used pallets?
…and more!
We'll also cover the basics, such as where you can pick up pallets for free and how to fix your old/damaged pallets to make them more valuable.
If you've never sold a wooden pallet online before, this is the guide for you. Let's get started!
FACT: Many People Want to Buy Used Pallets in the US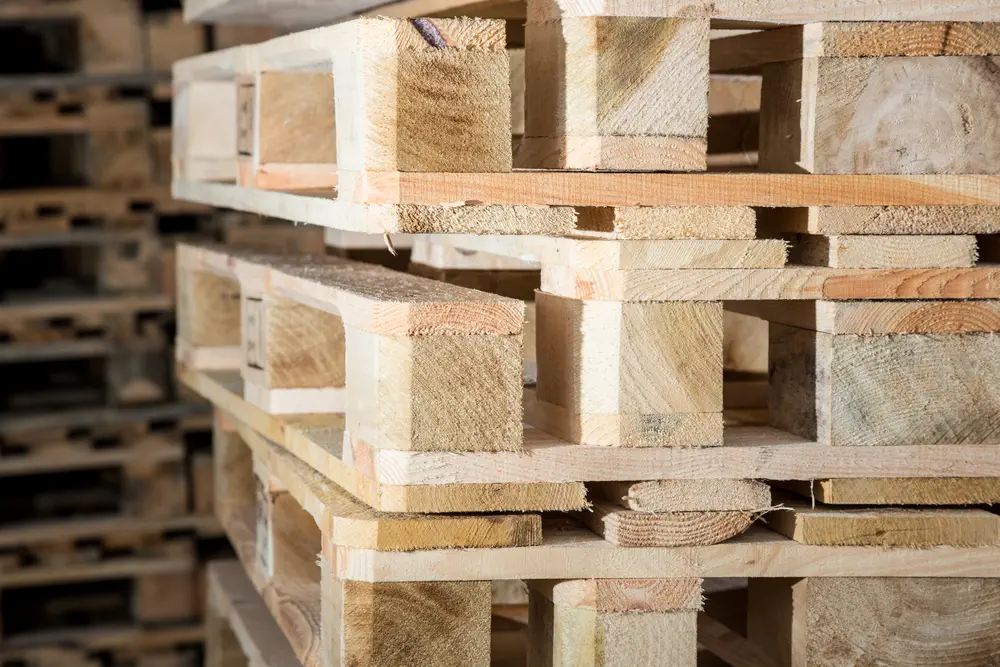 Your old wooden pallets may not look like much, but they're incredibly useful for the right people.
Did you know that out of 700 MILLION pallets made and repaired in the USA, fewer than 3% get thrown into landfills?
That means that most pallets get used and reused – or recycled – in one way or another.
If you're wondering who buys pallets, they're people and companies who are:
Building or remodeling a house
Shipping bulky, heavy items
Shelving and storage units at stores, farmer's markets, etc.
Putting together large electronic fixtures at venues
Creating assorted DIY projects
Transporting materials or products on construction sites
Upcycling furniture
And so much more
In fact, those are already a big clue about who you can sell your pallets to. If you spot any of these in your community, you can likely find pallet buyers nearby.
The Benefits of Recycling Wood Pallets
Whether you decide to sell your old pallets or use them yourself, you'll be joining the growing trend of recycling pallets. That isn't just good for your wallet, it's also great news for the environment:
Pallets are 100% recyclable and often 100% reusable
Unlike most other types of garbage or recycling, pallets can be re-used without any new materials. The wood itself is completely reusable, and all other parts can usually be re-used as well: nails and screws, metal bindings, etc.
Wood pallets can last from 3 to 5 years
That's incredible value for money. Buy pallets once, and you can use them for several years without worrying about buying new ones. Even if you damage a few, they're (usually) easy to fix and continue using.
Most pallets can hold thousands of pounds
Stacked correctly, a standard pallet can hold a LOT of weight – up to 4, 600 lbs in fact.
Used pallets are exceptionally versatile
That's partly due to the infinite ways that wood can be worked and shaped. Pallets are the ultimate base for DIY projects involving woodworking, construction, and even furniture.
But more importantly, it's because you don't need any special skills or equipment to turn an old pallet into something new.
In short, there's always a market for used pallets because they're extremely useful and easy to reuse, repair, or recycle – either by yourself or a professional.
How Much Can You Sell Used Wooden Pallets For?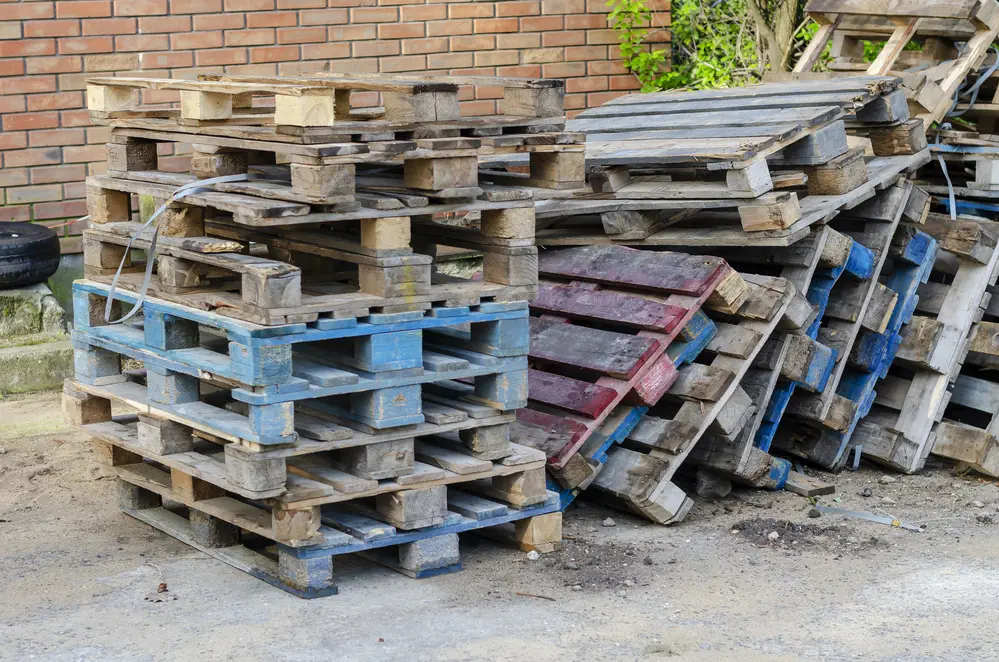 Is pallet flipping profitable?
The answer is absolutely.
First, let's talk about how much pallets generally cost, brand new and recycled.
Here's a quick estimate:
$11.25-$12.50: 48-by-40-inch GMA pallet (brand-new)
$25+: Heavy-duty block-style pallets (brand-new)
$7 to $10: A-grade recycled wood pallets (used)
$5 to $7: B-grade recycled wood pallets (used)
Those figures are a good baseline to start with, but the price also depends on a few other variables.
What Affects the Price of a Used Pallet?
How much you can get from selling used pallets depends on the following factors:
Pallet Quality
The more wood is worn or damaged, the less valuable it becomes.
Pallet Size and Type
48×40 is the standard size for pallets, so they're easier to sell. But don't throw out your other pallets – there's always a market out there for every type of used pallet.
Number of Pallets:
The more, the better. That's because most buyers want bulk deals.
Time of Year
Prices change depending on the time of year and demand. For example, you may get a better price during the holidays due to the surge of deliveries.
Type of Wood
Hardwood pallets tend to be more valuable than softwood.
Local competition:
If there are other pallet recyclers in your area, you'll have to compete with their prices.
So, how much are wooden pallets worth?
Given the above factors, you can sell your pallets anywhere from $0.50 to as high as $3 to $5 each.
Again, it depends on various factors, so you can get less or more than that.
The 12 Best Places to Sell Used Pallets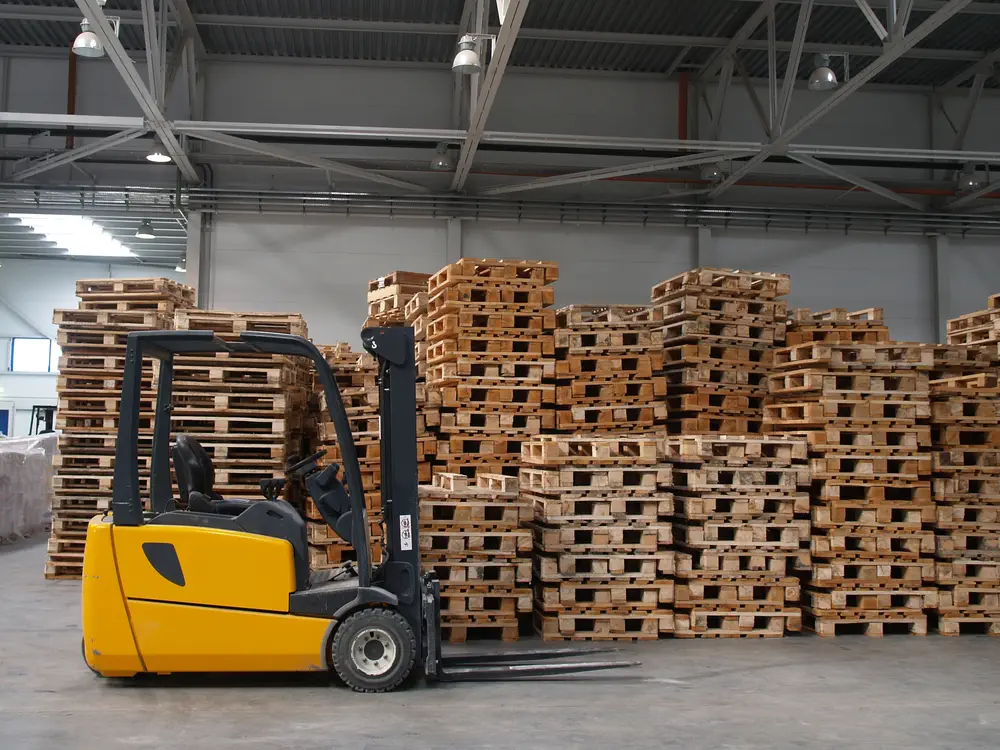 Now you wonder, "Where to sell used pallets near me?"
Here's a button that you can use. Then refer to the list below!
This is a giant list of places you can sell your wooden pallets, so bookmark this page for quick reference. Let's start:
#1: Pallet Companies, Brokers, and Recyclers
Pallet brokers are businesses that work with pallet companies to recycle used wood pallets. Pallet companies exclusively buy, sell, and distribute pallets to their customers in bulk.
Do note that most of them will only buy large quantities of used pallets instead of one or two at a time.
We recommend collecting and hauling as many pallets as you can before going in for an offer.
Kamps Pallets
Kamps Pallets is a national supplier and one of the biggest pallets recyclers in the US, operating over 100 recycling centers nationwide. They accept broken pallets, working pallets, and can also pick up pallets from your location.
However, they'll only deal with bulk quantities, so if you only have a few, you'll have to find another buyer.
The North American Pallet Recycling Network (NAPRN)
The North American Pallet Recycling Network is more of an online marketplace, not a single buyer. You can go on their site to connect with pallet buyers and recyclers in your area.
Their network spans the entire North American continent, so you'll find someone nearby no matter where you live.
National Wooden Pallet & Container Association (NWPCA)
The National Wooden Pallet & Container Association is the world's largest authority on wooden pallets and containers, with over 670 members in 28 countries who manufacture, buy, sell, repair, distribute, and recycle wooden pallets.
You can go on their website, type in your ZIP code, and pull up a list of pallet recyclers, woodworking shops, refurbishers, manufacturers, and others that buy and sell pallets near you.
RecycleNet
RecycleNet is another online directory of companies that buy and sell, and recycle wood for money. It's organized by state, city, county, business name, phone number, and more.
A great thing about RecycleNet is that you can also find businesses that buy waste, scrap, and by-products, so you can try to sell your old or broken pallets that aren't worth much.
PalletOne
PalletOne is a direct buyer of used wood pallets, and they usually offer a fair price. However, they prefer to buy common pallet sizes like 48×40 4-way pallets, EU pallets, and GMA pallets, among others.
Gruber Pallets
Like PalletOne, Gruber Pallets prefer standard sizes like 42×42, 48×40, 48×48, and 48×42. They may also accept other sizes if you have a large quantity to offer.
Atlantic Pallet Exchange
Atlantic Pallet Exchange is a company that specializes in wood products, specifically recycling and manufacturing wood pallets. They'll buy your old, broken, or obsolete pallets for recycling. Like most on this list, you'll have to offer large quantities.
#2: Local Businesses
You can also sell your pallets to manufacturers, builders, and other local businesses.
For example, some landscapers may need pallets to make raised garden beds or planters.
Construction companies may buy them to support heavy equipment. Lumberyards would purchase pallets to protect wood during processing, storage, and transport.
#3: Craigslist
Craigslist is a great place to sell used wooden pallets, but it takes time and patience.
You'll have to weed out the scammers, put up ads, wait for responses, and coordinate meetings to sell. Otherwise, it's a good option if you're not in a rush to sell.
#4: Woodworking Schools
There are dozens of woodworking schools across the country. They use a ton of wooden pallets, so it's a built-in market for you.
Just make sure you contact your local schools to get their rates and requirements before driving there with your pallets.
#5: Furniture Makers/Restorers
This is another great market, especially if your pallets are hardwood.
Furniture makers and restorers can use wood pallets to make rustic furniture, cabinets, flooring, tables/chairs, dressers, bed frames, and more.
#6: Facebook Marketplace
Facebook Marketplace is great for selling pallets, no matter where you live. It's free to post an ad and get started. Just make sure you detail your listing, including the number of pallets, type/quality, and price.
#7: Reddit Classifieds
This is an untapped resource for the social media-savvy.
Look for a subreddit (aka category) in your area, like /r/NYCClassifieds for New York City. Then, post an ad to let potential buyers know you have some used pallets for sale.
It's free to post classified ads on Reddit, but do your due diligence to avoid scammers.
#8: Local Neighborhood Groups Online
If your community is on NextDoor, has an exclusive Facebook group, or similar, post your classified ad there for free to connect with local buyers.
#9: Grocery stores, shops, and merchants near you
Again, these are built-in markets for wooden pallets. Approach nearby shop owners and offer to sell them your used wood pallets.
#10: Wood Waste Processing Companies
Smaller wood waste processing companies may buy your used wooden pallets to recycle and resell.
#11: Flea Markets and Garage Sales
This is a cheap and easy option.
All you have to do is put some signs up at your local flea market, then show up and sell your cheap used pallets.
You can also put up your own garage sale and let the customers come to you. Double win if you have other things you want to sell/get rid of.
Try teaming up with your neighbors to put on bigger garage sales, too.
#12: Junk Shops
Your local junk shop will definitely buy used wood pallets, but they won't pay much. Still, it's an option.
BONUS: Upcycle Your Pallets
If you're handy and creative, you can upcycle wooden pallets to build things like coffee tables, headboards, benches, storage shelves, and more.
There's a growing market for pallet furniture, so it's worth considering if you want to make some extra cash.
How to Sell Your Pallets
At this point, you likely have a good idea of where to sell your wooden pallets.
Use these tips to make the most money possible:
Post on different sites in your area. The more exposure your pallet ad gets, the better chance you have at making a sale.
Call ahead. Check if they're interested in buying your used pallets before you show up.
Compare prices. Don't sell to the first buyer. Shop around, compare prices, and go with the highest bidder.
Offer free delivery. The more convenient your sale, the easier it is for buyers to say "yes".
Offer different payment methods. Make it as easy as possible for people to pay you. Aside from cash, offer Venmo, CashApp, etc.
Gather as many as you can. Again, most buyers want to buy in bulk. So, the more pallets you have to sell, the better.
Where to Pick Up Pallets for Free Near You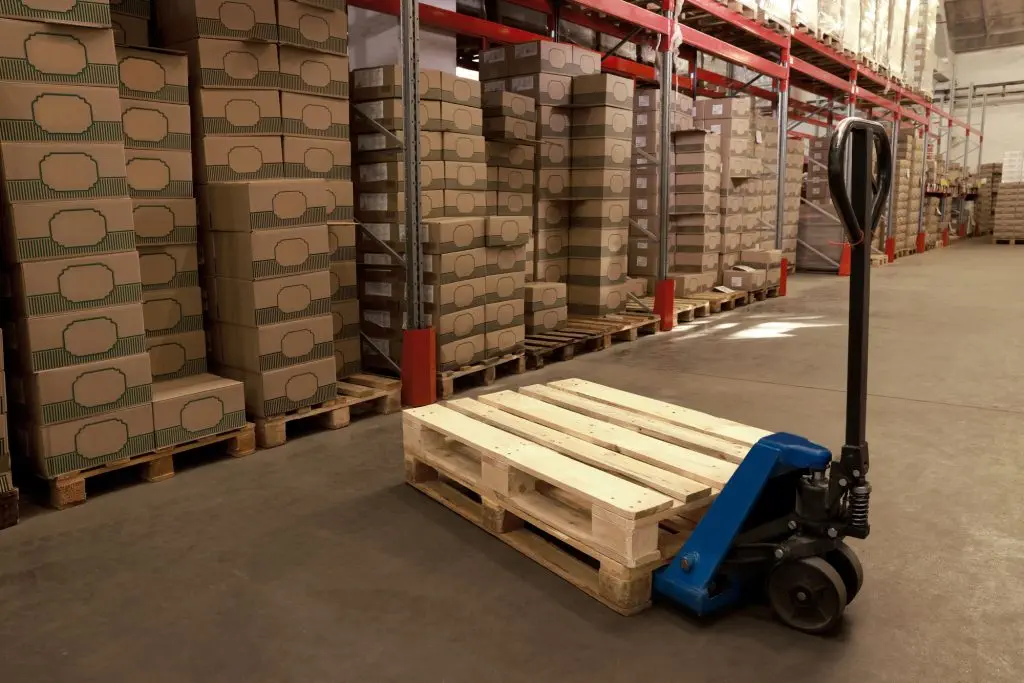 There are tons of places to get FREE used wood pallets if you know where to look:
#1: Construction Sites
Construction sites are a gold mine for free wood pallets. All you have to do is ask the foreman if you can take them off their hands, then haul them away.
#2: Grocery Stores & Supermarkets
Grocery stores are another great place to get free wood pallets. Ask the manager and see if they can spare any, or call around with your phone book/online directory to see which stores have what you need.
#3: Restaurants
Restaurants get a lot of deliveries for prepared foods and other goods. Ask them if they can spare any wooden pallets for you.
#4: Flooring or Tile Stores
Many flooring stores receive their shipments on wooden pallets. Ask if they can spare any for you to take off their hands.
#5: Local Hardware Stores
Local hardware stores like Home Depot and Lowes often have a daily stockpile of used wooden pallets they need to get rid of before their next shipment comes in.
#6: Building Supply Stores
Builders supply stores like True Value or Ace Hardware also receive deliveries on wooden pallets. Ask if they need to get rid of any, or call around to their closest locations.
#7 Major Grocery Stores
Walmart, Target, Costco, Sam's Club, and other big-box groceries and retail stores all receive deliveries on wooden pallets. Just call your local store managers to ask.
#8 Department Stores
Hit up your local JCPenney, Macy's, Kohl's, and other department stores. These places have huge, daily shipments, so chances are good they'll have some wooden pallets they can let go of.
#9 Online Marketplaces
Just like Facebook, Craigslist, online community groups, and Reddit are great for selling pallets, they can be great sources of free pallets, too.
#10 Your Friends, Family, and Neighbors
If you have some used pallets lying around, then some people around you probably do, too. Ask if they'd be willing to give them away.
Basically, any business that receives regular, large quantities of products is a good bet for finding free pallets.
Some of them will even pay you to take the pallets, so it'll never hurt to check.
How to Repair a Broken Wood Pallet (DIY Tips)
No matter where you decide to sell your pallets, you'll always get more money for them if they're in good condition.
Here are the common types of repairs you'll need to make to get your pallets looking great again:
Repairing Split Pallets
Split pallets are very common, but they're also very easy to fix. All you need is some wood glue and a clamp.
Get the glue on both sides of the split to seal it shut. Then put the clamp on and leave it overnight to dry out.
Repairing Missing Slats or Boards
Take the old, broken slats out and replace them with new ones. Then use your hammer to nail them down so they're nice and sturdy.
Repairing Loose Nails
Get a hammer and some nails. Remove any loose, rusted, or crooked nails. If you need to, remove them all and scrape off any paint or goop.
Then, take your hammer and start pounding the nails back in. If there's any nail sticking above the wood, just pound it back down so it's flush.
You can also use a nail gun if you have it.
Repairing Scratches, Dents, & Gouges
If you have some deep scratches, dents, or gouges in your pallets, you can use some wood filler to fix them up.
Just spread the filler all over the damaged area and let it dry. Then sand it down until the surface is nice and smooth.
Repairing Insect damage
Pests like bugs, termites, and rot can damage wooden pallets. If you find any traces of these on your pallet, then sand the entire board down to remove them. Use some wood filler or sawdust mixed with glue to seal up these patches before leaving to dry.
After repairing your used pallets, store them in a dry, covered, and well-ventilated location to protect them from further damage.
Wrapping It Up
There you have it – everything you need to know about making money from used pallets.
The best part? You don't even need tons of capital or time to sell pallets for cash.
It's perfect as a side hustle, whether you're a student, stay-at-home parent, or someone who is unemployed and looking for a way to make money.
A great side gig if you have full-time work, too!
We hope this guide helps you get the most money possible for your old pallets.
Good luck!