Home is where the heart is. Not only that – for many homeowners it's where most of our net worth is too.
Like a savings plan, you've been paying off your mortgage for years, with part of your payment going into the equity of your house. Your house has been doing work too – as an asset, it has hopefully grown in value.
In fact, if you're a homeowner you might be pleasantly surprised that the property market seems to be growing at a breezy pace. According to CEIC – house prices grew 17.1% year over year in December 2021. Wouldn't it be a nice feeling waking up one morning knowing that you're 17% richer?
So what's driving the increase in house prices? Quite simply – inflation.
And why are we seeing an inflation in house prices? There are two reasons.
Inflation reason #1: There's increased demand for houses.
The first is that there's more demand on homes than there is supply. This drives up home prices. Since the start of the pandemic, many people have started to work from home.
This gave people to option to move away from cities where their workplaces were, and really move into their dream home.
Not being able to go out and spend money also meant that people were able to save more. In fact, household net wealth increased even more than the upward trend we saw in the 5 years prior to the pandemic as shown in this wealth ranking by Compare the Market: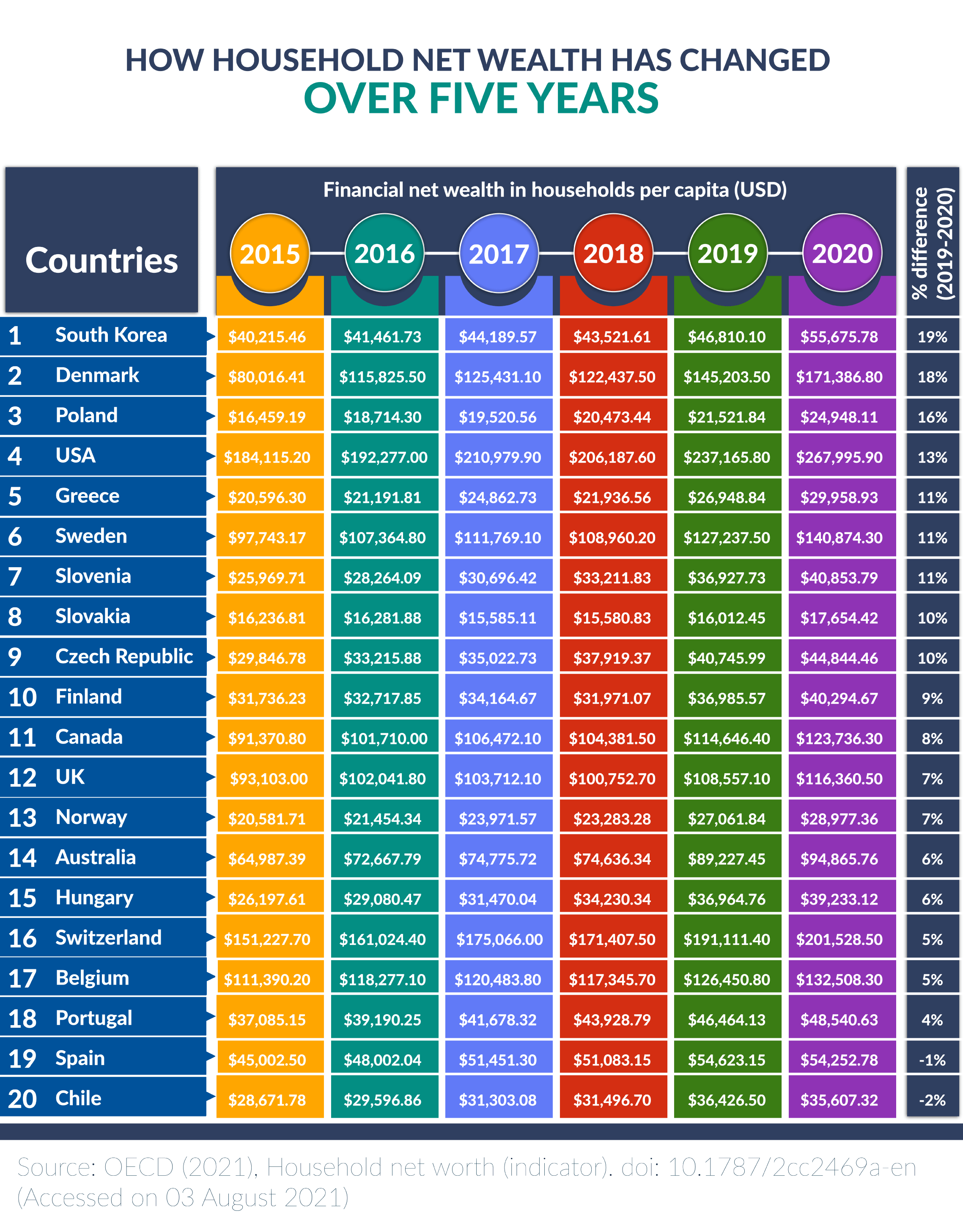 All that extra money meant that people were willing to pay more for homes, driving up prices.
Inflation reason #2: There's more money in our economy than ever before.
The second reason type of inflation is the one we're more familiar with – where we seem to afford less despite having more money. Yes, it's the same type of inflation that makes your milk more expensive every year.
Many people lost their jobs in the pandemic and activity slowed down a lot for many businesses. To stop the economy from going into a free fall, governments and central banks around the world created huge stimulus packages to keep everyone afloat.
This was essential, printing money, and it pumped lots of new money into the economy. While this sounds like a good thing, it's not so good in the long term. It means that the value of each dollar became lower, which meant you needed more dollars to buy things.
That's why we're seeing things becoming more expensive now.
Inflation isn't everything though. You must consider interest rates too.
The central banks aren't planning to let inflation go unchecked though – recently they've been increasing interest rates to dampen spending and fight inflation.
This could spell trouble for homeowners that still have a mortgage – if you're on a variable rate mortgage, you could be looking at paying much more in monthly payments than you are now.
Even if you're on a fixed-rate mortgage this could be bad news for you too. If you were hoping to refinance your property in the near future, you might have to wait a long time for interest rates to fall to the favorable levels we've seen recently.
So, is this the perfect time to refinance your home?
Yes, we think so. The combined effect of your higher home prices and current low-interest rates make this the perfect time to refinance your home.
Because your home is worth more, you'll have more equity in your home. This has huge benefits:
More equity means that you're more likely to qualify for a refinance loan or get a bigger loan.
You could take money out of your home's equity when you refinance, which you can use for other things like buying a second home.
The lower interest rates now also mean that you'll probably want to lock in the low rate before they go up. Given that interest rates are starting to go up, and we'll see that trend all around the world, we think it's a great time to refinance your home.
Conclusion
Thanks to inflation, higher home prices due to demand, and recently low-interest rates, we think homeowners have many financing options available to them such as refinancing. You could use these tools to buy another property, invest, or even improve your current property.
You need to be quick though because interest rates are looking to increase and you'll want to lock in the low rates while you can. All the best!